We Make Handcrafted Diamond Art Kits
Why the hardwork is for you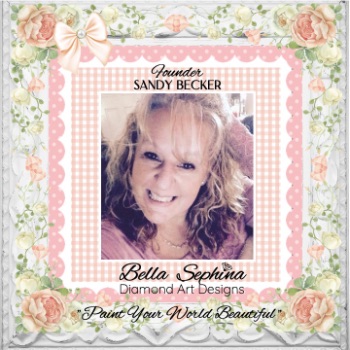 Thank you for visiting the Bella Sephina webshop. Take a few minutes, put up your feet and browse the currently available and up- coming Bella Sephina collections. May you find a kit that puts a little extra creativity in your heart and sparkle in your eye. Take some time to "paint your world beautiful today". – Sandy, Owner and Founder
     We are thrilled that everyone who diamond paints a Bella Sephina canvas knows they are getting a uniquely beautiful, one-of-a-kind, handcrafted kit worthy of your hard earned & competed for diamond painting dollars.
     Before I created Bella Sephina, I fell in love with diamond painting in a Portland, Maine craft store in September of 2019. I discovered it completely by accident while looking for activities that I thought my after-school program kids would love to spend their afternoon time on. I took a kit back to them and we dove in. The kids loved it and I did too! I have always been a crafter and the activity of diamond painting lit a new spark in my creative little soul.
     As my passion for wanting more kits grew, I began looking for kits on the internet and found plenty. My stash grew quickly but as I started unboxing and working on the different canvasas I soon began discovering differences in the kits I was working on. In some cases I was frustrated with wrinkles in canvases, diamonds of different sizes and different materials, symbols I couldn't read and images that didn't look like the picture on the box. Some things led to joy like the the sparkle some diamonds have over others, a diamond that stays where you put it, symbols that are easy to read and a picture that looks like the one on the box.
     All of it led me to question why some kits kept me painting on and others caused me to roll them up and put them away never to be finished.  The more I painted the less I could find images that spoke to my visual sense of movement, space, detail and color.
     I am a teacher by nature and for the majority of my adult working years, I have created the learning materials for my preschool and Montessori early learning classrooms. I have spent thousands of hours over the last 30 years creating original activities. Whether spray painting little pumpkin and ghost lima beans for counting, crafting by hand a set of Montessori golden bead ten bars or creating learning games and work booklets on the computer, I have always found the creative process a joy to my soul.
     Bella Sephina Diamond Art Designs was born when I realized my teacher skills could be applied to create the kinds of diamond painting design's I had been searching for.  I realized I could create designs that would provide the joy of movement and visual activity with no huge, boring color blocks to monotonously drill but instead we could paint stimulating visual elements that connect to each other full of little details that make a painting fun to do.
      The two most influential loves of my life were my Dad and my little Italian grandma Nani. You'll find a sprinkling of Italian in my collections. My Dad's name was Jo(seph), my Nani's name was Fior(ina). Bella SEPH-INA is a celebration and remembrance of their spirits and the unconditional love they brought to my life. I miss them terribly and I have been without them for over 20 years.  My children have no memory of them but I keep them with me in the meatballs I make, the sauce I cook, the photos in my kitchen and the name I chose for this company I started. 
     I may not have the two most important family members with me anymore but I have my new Bella Sephina family in their honor.  You have embraced my kits with unconditional love and I thank you.  I make handcrafted kits for you because you deserve the very best diamond painting kits elevated with handmade love and a sprinkling of extra special. Customers have often said they feel like a Bella Sephina kit is like getting a present from a close friend.  That is exactly how I want you to feel because every kit I put together I do so with you in mind.  From your personal note to packing up your kit,  I think of you in the process.  Thank you for choosing my kits and for being part of the Bella family. 
     Since launching in May of 2020 Bella Sephina has been warmly received by the diamond painting community and watch as we continue to grow and develop our collections. 
     I will only design and offer you the highest quality, carefully crafted designs and products available for me to produce.  Quality wrapped in love is my Bella Sephina pledge to you. ❤️
-Sandy